Crash Code cover art
Crash Code cover art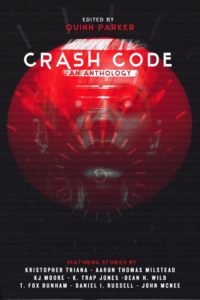 Blood Bound Books has revealed the cover art for their upcoming sci-fi / horror anthology Crash Code, which will include my story "Cold Calculation." Looks awesome! I've been really fortunate with some of the cover art on my short fiction page–lots of vivid, contrasting colors that gives everything a lot of pop.
This anthology is intended to release in December, but will be available for pre-order a couple months earlier.
Here's the opening paragraph:
"That's it. The brain's fried."

Melanie and four other passengers hunched over the charred hub that had held the ship's Jump Calculator. The brain. Lab-grown and cubical it might've been, but under the emergency lights of the hot control room the thing looked enough like the human version to turn stomachs when Linus wrenched it from its receptacle. Tendrils of neural tissue and wire dangled uselessly, dripping nutrient bath.
My other short fiction is listed here.