The Grey Bastards by Jonathan French
The Grey Bastards by Jonathan French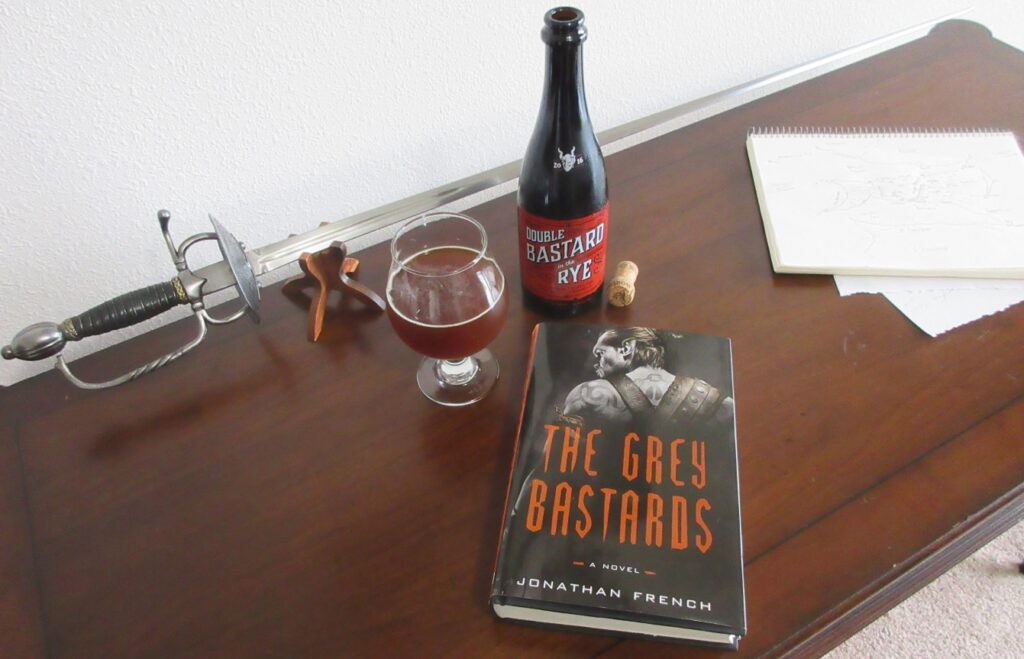 Had to pull back to get the whole bottle in the shot. Also bought new ale glasses to drink it from!

It's easy to extol the virtues of a technically well-written book with a well-crafted story. A bit harder is to put into words one that's all that and just plain, viscerally enjoyable to the core into the bargain as Jonathan French's The Grey Bastards is.  My last three reviews all had pretty dark protagonists, so it's refreshing to read an adventure about a character than one actually might not completely despise all the time.
The plot setup on the back cover is deceptively simple: Jackal, a young, arrogant and upcoming member of a tribe of hog-riding half-orcs wishes to supplant his aging chieftain in a brutal borderland separating hordes of animalistic full orcs from a decadent human kingdom based loosely on medieval Spain. I actually hesitated to get this book because of that, but I soon realized my error, when an impulsive, foolish act of violence in the first chapter throws a wrench in the dark political schemes of multiple factions, threatening the wider world. Jackal's journey from selfish ambition to reluctant leadership and more is a familiar arc, but a rewarding and satisfying one here. There are some places where he acts contrary to his character in order to move the plot along—killing several almost-innocent men at the drop of a hat, but waffling over leaving a pretty elfen girl to her fate when it should be none of his concern. I can sympathize; the story demands what the story demands, but it can be jarring in some cases.
The story is told in third person but exclusively from Jackal's POV. The choice shows its limits here, since some exposition can only happen through long tracts of text that I thought slowed the pacing, like a hog trudging through swampland. But I was encouraged early on with the opening scene, since it does a good amount of worldbuilding without resorting to an infodump but showing through dialogue and action. The dialogue of the main characters flows and crackles nicely, though by comparison some of the secondary characters' dialogue is stilted, with a good amount of telling that serves only to relate information and advance the plot. Even so, French has a talent for creative magic and fantasy elements that you might have seen before, but rarely all in one place or executed quite so realistically. Not surprising for a long time D&D devotee. Glowering over it all is the slowly unfolding truth that the storied past that you might've grown up on isn't quite what you thought it was, mirroring Jackal's arc.
There's an immediacy to the narrative that kind of forces you to integrate these speculative elements quickly because the plot moves along without giving you time to breathe, which is great. The world is gritty but imaginative, which isn't always the case with this category of fallen world fantasies. It's almost as if the mud of the world too often washes out the creativity of the author and you're left with a bland, grimdark soup. Not here. I often found myself reading thirty, forty, fifty more pages than I'd planned during any particular reading session (warm weather, cold beer and duck pond with a fountain right outside my door might have had something to do with that), so much did I need to know what happened next.
In my review of Age of Assassins I made reference to one of Joe Abercrombie's characters. Here, I often had a foreboding feeling of yet another—I found the wizard Crafty frighteningly reminiscent of Bayaz. Page 176 of the hardcover, you'll know what I mean.
The pacing is mostly quick, but paradoxically, I found the climax rather too drawn out, taking place over several chapters. I think some clever editing could've helped this a bit better. My complaints are minor though, and I can genuinely say this book is a welcome balm that combines a dark, gritty world with creative embellishments and characters that you can actually cheer for, even if they come out covered in mud. Humans don't come out looking too good at all in this, and it's a testament to the immersion of the world that I hope we're redeemed at least a bit in future books. The story ends with a bittersweet setup for the next volume, The True Bastards, which I await with relish.
Also, I so wish I had an animal like Hearth by my side, though I don't deserve it.
Jonathan French's website: JonathanFrenchBooks.com
Pairs well with: Double Bastard in the Rye
Okay, I don't know who makes this. Apparently the venerable Arrogant Bastard brand split off from Stone Brewing, so what is this, an offshoot of an offshoot? Whatever it is, don't be fooled by the label, this is no simple ale. At 13.5% ABV it's a strong barleywine that will kick your ass if you try to drink it like a beer. That's plain to see from the muddy brown color. There's little carbonation and it has a vanilla sweet, thick caramel flavor with enough bitterness to balance it out, like an epic battle between bready malt and citrus hops right there in the bottle. It's aged in rye whiskey barrels, and has a strong spicy/herbal tinge to it. There are almost too many flavors. Almost. I enjoyed one small glass at a time but always had to take a nap after. Not everyone will like this, but I did, and some will love it. This bastard of a barleywine thus goes well with The Grey Bastards.