The Heron Kings Rampant is out!
The Heron Kings Rampant is out!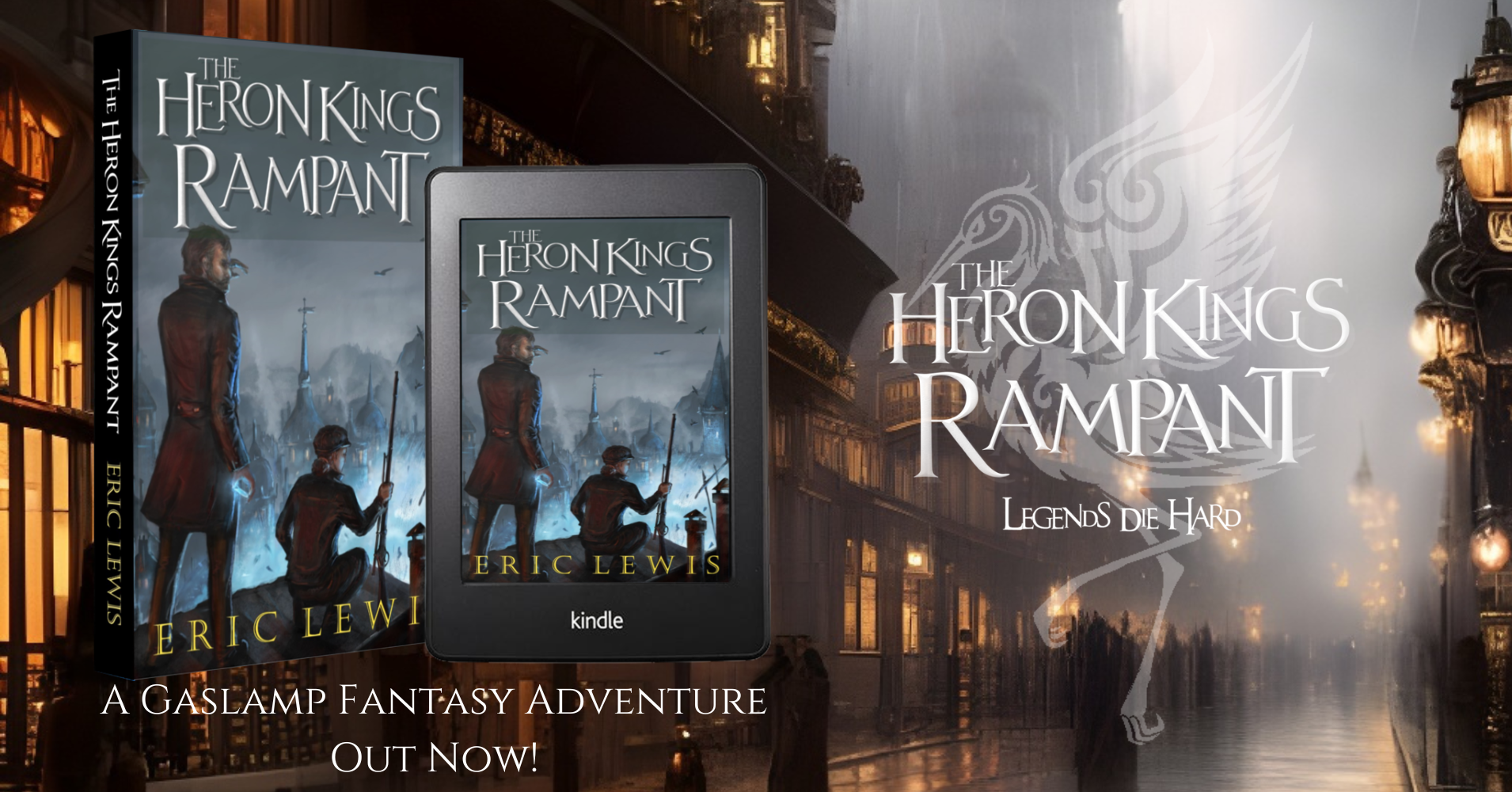 LAUNCH DAY! The Heron Kings Rampant is out today. Physical copies are only from scAmazon unfortunately. You can get Hardcover and Paperback both. I wouldn't really recommend the hardcover, it's case laminate only, meaning no dust jacket. But that's the best you can hope for with KDP.
The Kindle Ebook is 99 cents right now, but I'll have to raise it soon so that I can "discount" it in the unlikely event I can score a BookBub deal, so grab it now.
The Ebook is also available (DRM-free!) from Smashwords, Barnes & Noble, Apple, Kobo, and other retailers Smashwords distributes to. All 99 freakin' cents!
I've been spamming all the 'social' media I can all month, trying to hussle as many pre-orders as possible. And I actually, quite by accident, released the paperback a few weeks ago when I accidentally hit 'submit' instead of 'save.' But I wonder if this might have a psychological advantage: you can wait and get the 99 cent book, or buy the paperback for $9 right now. Which do you really want??? Who knows, maybe it doesn't matter. But ultimately I was able to wrangle enough orders that on Day One Rampant has already sold more copies on amazon than Flight has in the whole year since release combined. Plus three commitments to ARC reviews. Who needs publishers, eh?
My next project is already well underway, which you'd know if you read the progress widget on the sidebar. The Artificer's Knot is a separate story from the Heron Kings saga but is set in the same world about a dozen years after Rampant. It follows Randyll Tephius, a young engineering student who is thrown out of the University on false charges. At his lowest moment he's rescued by Gouger Nebb, the notorious gang boss from Rampant. Nebb plans to use Ran's skills to break into the burgeoning petroleum business and retire a 'legitimate' businessman. But the new oil industry threatens the energy monopoly of the mysterious Vril controlled by the aristocratic Royal Archalchemist Berqhard and his cronies, and his syndicate sabotages Ran's efforts. When the same people who ruined his reputation offer Ran wealth and redemption to join their side, he'll have to decide whether to betray the very man who saved him.
The first draft is finished at about 95,000 words, but there's lots of rewriting and editing to do, so don't expect anything of it for awhile. But I am relieved to lay down the burden of the Heron Kings and move on.
As always, you can read the first chapter of Rampant here. And you can view a brief trailer below: