Model 1767 French Grenadier's Sword
Model 1767 French Grenadier's Sword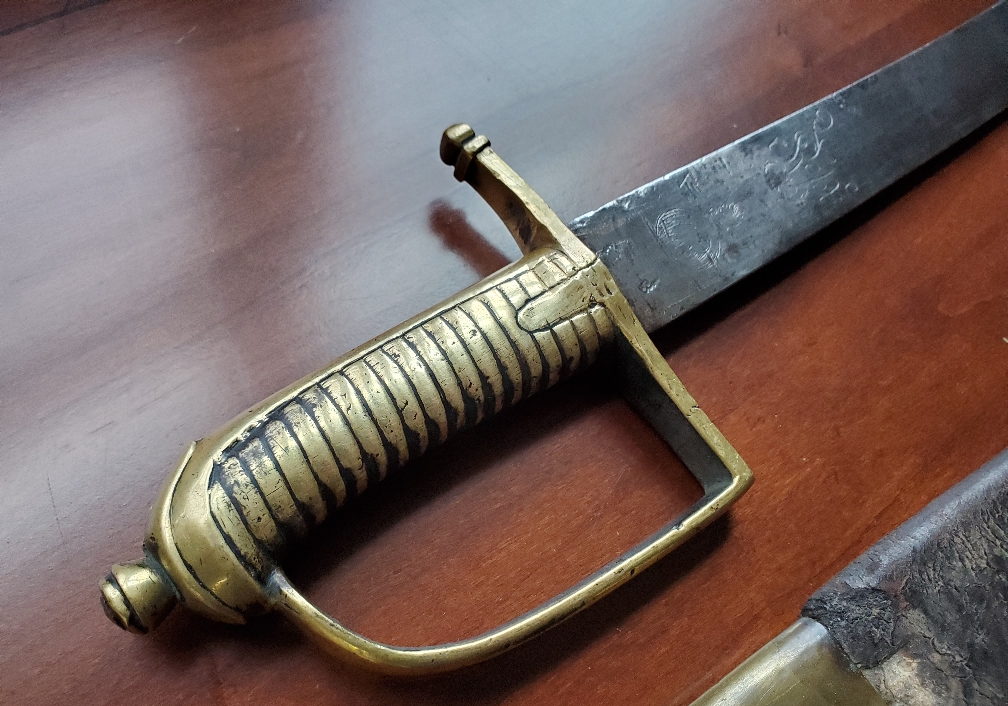 Here's the latest hit of my steel addiction. This is a Model 1767 French Grenadier's sword made in Klingenthal in 1792. It's a pretty short, handy little blade, and it slightly predates the typical briquet shape you see everywhere. I wanted something a bit more unique, so I probably spent way too much for this. It was made right in the middle of the French Revolution during the reign of Louis XV, and has "Rep" for Republic inscribed in cursive on one side of the blade just above a flaming grenade logo. Below that are some inspection stamps that help date the manufacture. On the other side of the blade is another grenade and "GRENADIER." The spine is inscribed with "Klingenthal."
The sword came with the original scabbard made of leather and brass, but it has become dried out and misshapen so that it no longer fits properly. The blade has been through a lot, with a great deal of deep pitting and black rust. It has seen some harsh cleaning at least once, and numerous dings and nicks all along the length. These aren't really complaints, just observations. Another interesting thing to note is that the blade is sharpened. It's not still sharp, but definitely has an edge, so it almost certainly saw service at some point. Unfortunately there is some movement of the blade in the hilt, both forward/backward and side to side. There is a large gap between the blade and the brass of the guard, and a crack on one side where the brass was welded together. But it's not loose enough to where it seems about to come out. There was probably a leather washer covering the gap between the blade and the guard at some point but it's no longer there. The spine has a nice gradual distal taper from the base up to about 5 inches from the point, where the back becomes beveled into more of a spear point. Though short, the sword has a lot of blade presence, and could be used to deliver powerful cuts as well as serve as a general tool.
Here are the stats:
Total length 71.8 cm (28.25″)
Blade length 58.4 cm (23″)
Grip length 9.2 cm (3.63″)
Blade width 3.5 cm (1.32″)
Blade thickness 1.6 cm (.63″)
Weight 942 g (2.08 lb)
Balance 9.8 cm (3.9″)
And here are the rest of the pictures!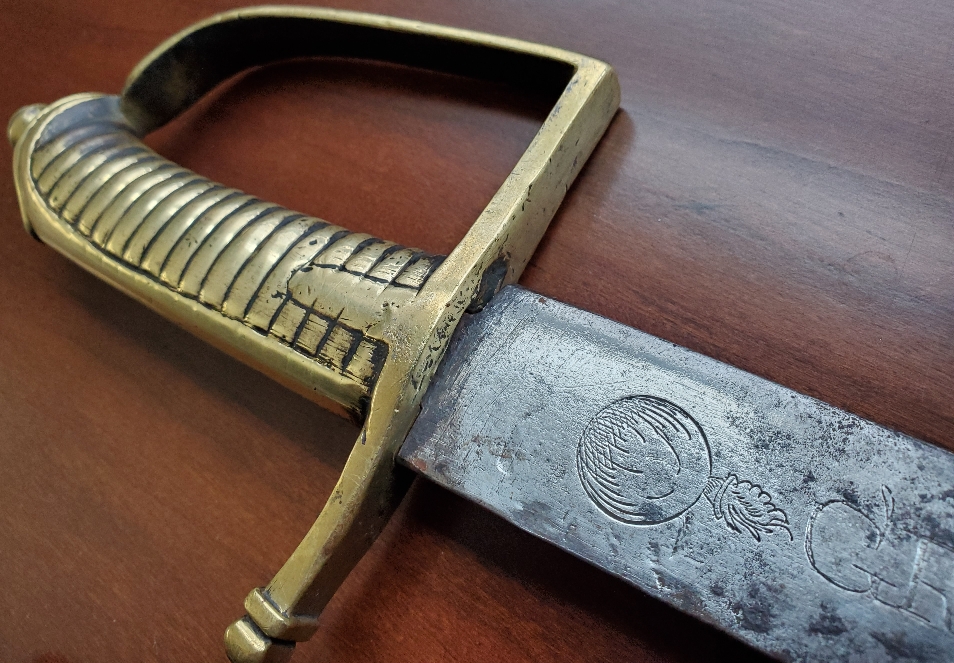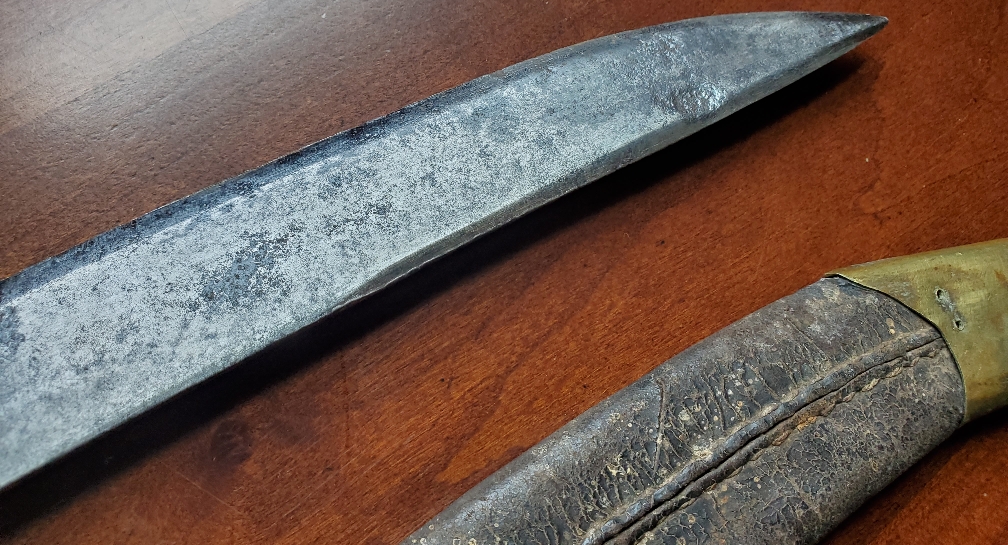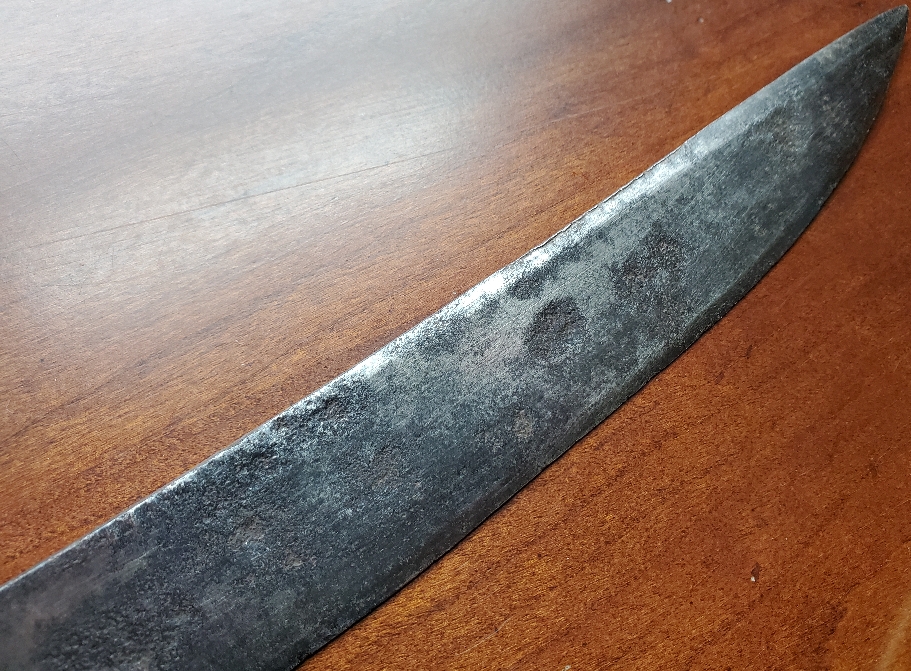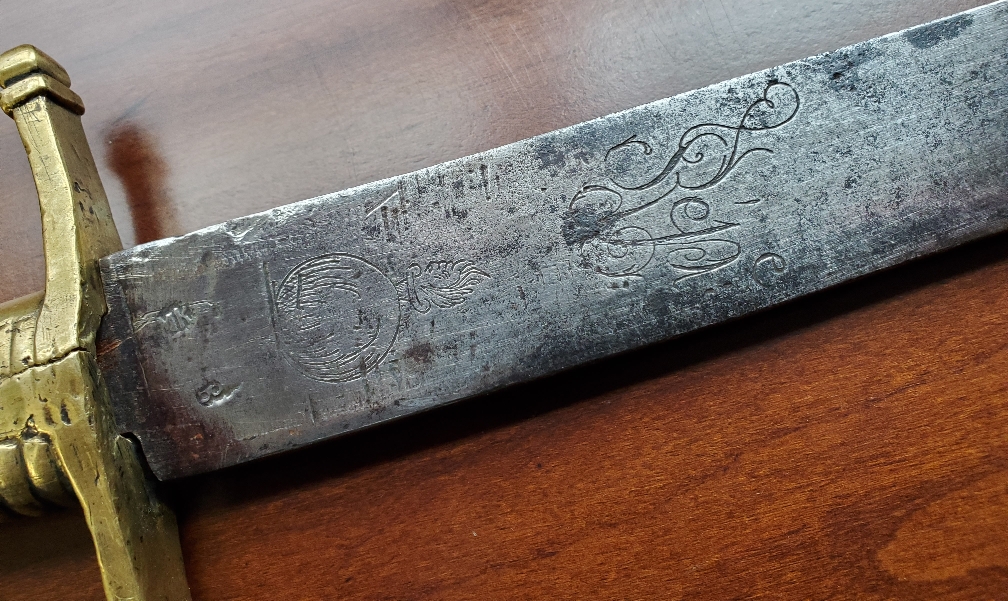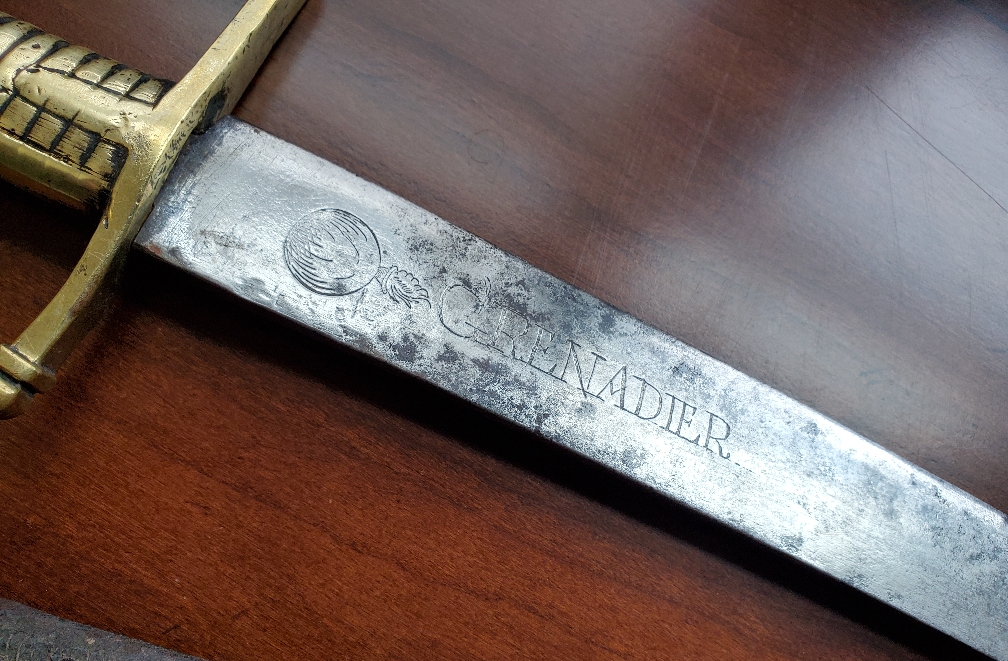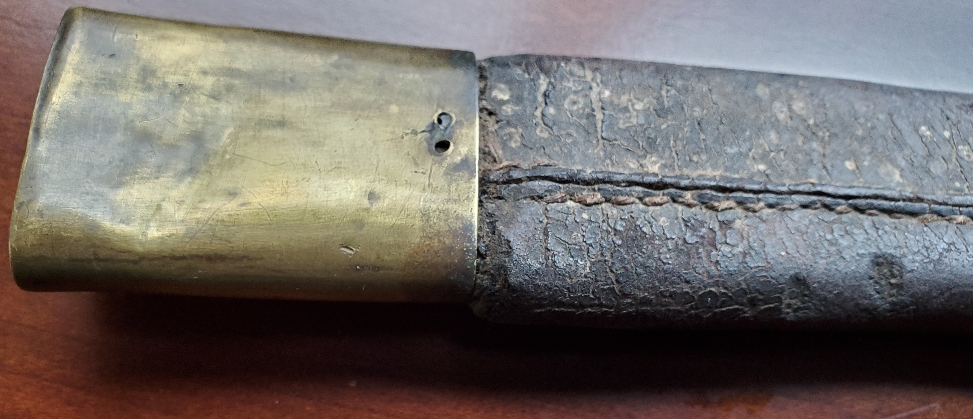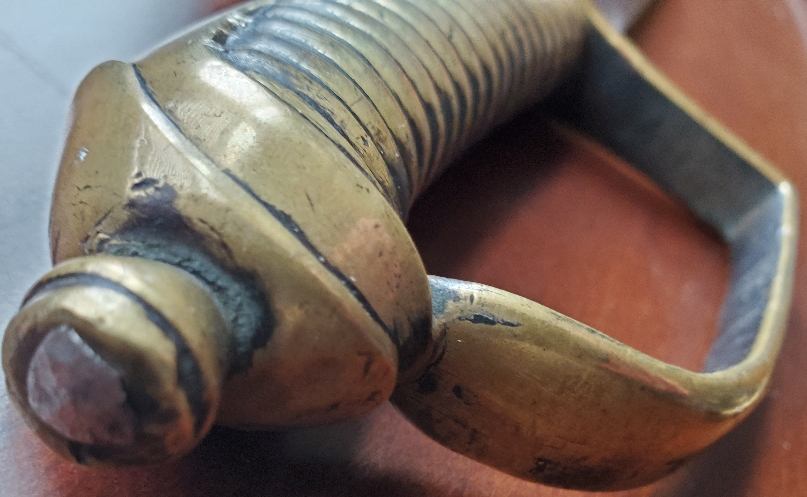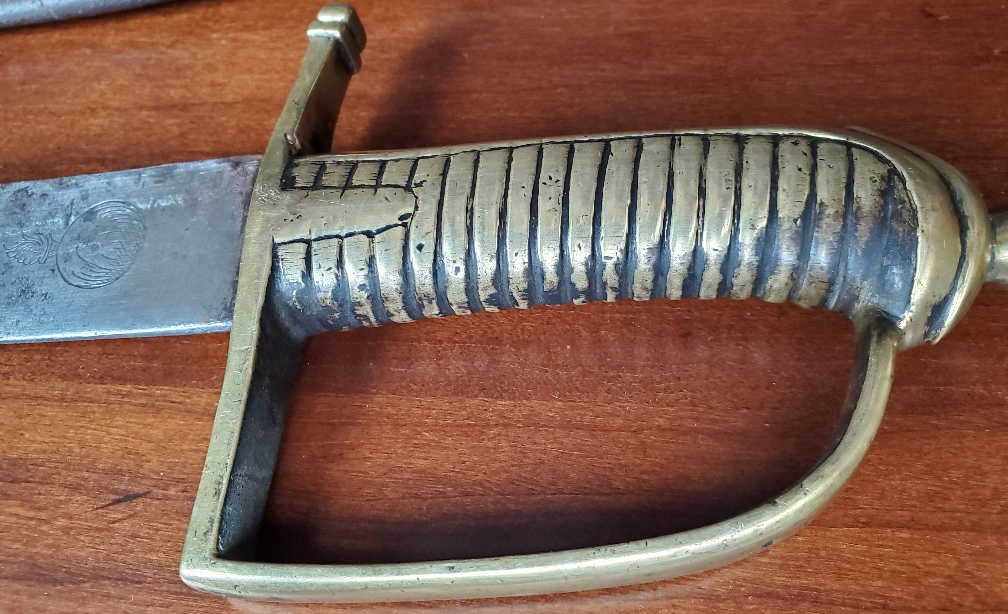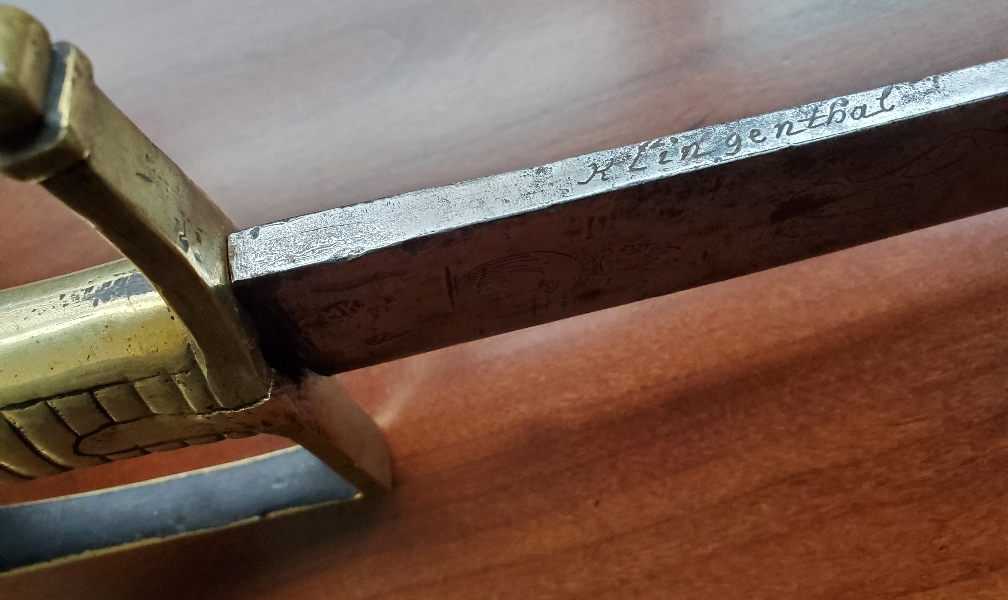 Here's also a little bonus- this antique bass field microscope I picked up. No idea how old it is. It's pretty basic, the focus is done just by sliding the upper part up or down. The light is supplied by a mirror, which is partly desilvered. It might be minimally functional but makes for a nice little display, and it came in an attractive blue velvet lined wooden box.