Iron Curtain by Bowen Greenwood
Iron Curtain by Bowen Greenwood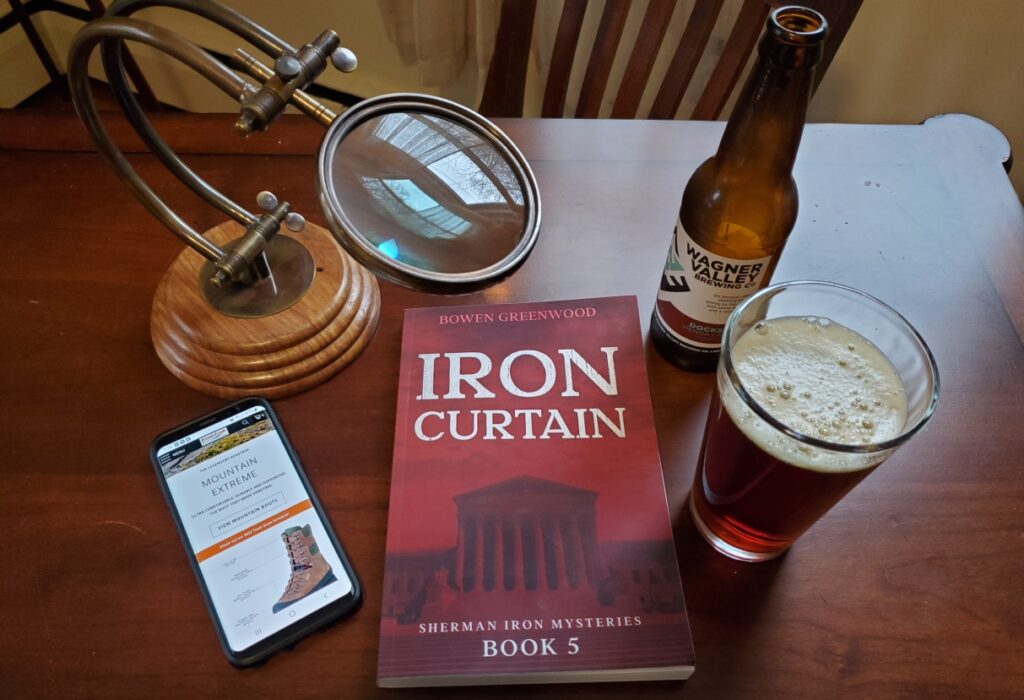 Iron Curtain is the latest in the Sherman Iron detective thriller series by Bowen Greenwood. The books follow the eponymous small town Montana reporter as he fights to publish the truth while dodging bullets from the vicious drug cartel that has taken up residence. In this fifth installment, the story stands alone and can be read by itself, even though it's clearly (the final?) part of a larger saga.
After having survived the cartel headed by the cosmically evil Ramsey Castro, Iron's testimony is key to putting the druglord away for good, either behind bars or in the ground. When the prosecuting attorneys finally have a judge who can't be bought, their hopes are dashed when that very judge is murdered right before Iron's eyes. An assassin of frightening skill and brutality demands the release of Castro, or else more people will be killed. The race is on to catch the killer, and Iron must once again become as much a detective as a reporter and enlist his rapidly dwindling circle of friends and allies to stop the rampage.
Full disclosure, I have not read the previous books in this series, but although it would certainly add to the richness of the story, it's so deftly-told that it's not strictly necessary. The backstory is woven into the narrative seamlessly, not feeling at all like an infodump or a "previously on…" Honestly I miss this kind of semi-episodic storytelling. These days every book or TV series is one extended soap opera where you dare not miss anything or you're lost and a lot of the pages or runtime is filler. That's definitely not the case here though, as this story has precisely no fat, going at a break-neck pace of action.
The tone is somewhat reminiscent of classic noir thrillers, and I could almost hear Bogart or Cagney's voices saying these lines, even though they'd be way out of place in small town Montana. It evokes a sense of nostalgia even if one hasn't much real exposure to the genre, and even with the addition of modern technology as an integral part of the plot, I found myself reminded oddly of one of the less supernatural episodes of Twin Peaks as much as a Perry Mason novel. This is a story that could only take place in a small town, with a growing sense of dread as the bodies begin to pile up and a sort of slow-motion train wreck of panic builds in a way that just wouldn't happen in NYC or LA. Cracks appear in Iron as the loss of his friends takes a real emotional toll on him in a way that might not be portrayed in similar stories of the past. The little details along the way—the brand of boots the killer wears, local businesses and even minutiae of the legal system particular to the area—all give the setting a sense of (here's a Million Dollar word for you!) verisimilitude that keeps it from feeling like a set-piece thriller. Some characters do fill an archetype role—the slimy defense lawyer, the corrupt officials, the tough-as-nails prosecutor, the hacker—but this serves to orient the reader within a familiar framework to move the story forward.
Iron Curtain is a pretty quick read, as action thrillers tend to be, and I plowed through it in a weekend. I found the prose refreshingly straightforward, clear and unaffected. Like all the good stories of the genre, the climactic scene was unpredicted yet inevitable, with little bread crumbs dropped along the way that end up paying off. And of course there are a few clues that in retrospect are intentionally revealed so that the reader can kind of guess something and then feel smart when it's confirmed later. I see what you're doing! I'd recommend this and the entire series to readers wanting quick action, clever twists and a classic, determined hero who won't give up because it's the right thing to do but also flawed enough to be relatable.
Bowen Greenwood's website: https://www.bowengreenwood.com/


Pairs well with: Wagner Valley Brewing Co. Dockside Vienna Lager
As a long-time ale fan I might have come to expect little from lagers, but this isn't always the case. This amber lager from Wagner Valley Brewing packs an admirable course of flavors into a bottle at 5.1% ABV and 21 IBUs. I'd normally recommend something like this for spring, but it has been a frighteningly mild winter around here (which I'm sure we'll have to pay for soon enough!), so I don't feel it's out of place at the moment. It pours a dark red-brown with little to no head that dissipates quickly. Mild aroma of caramel and vanilla with a very mild sweetness that's not cloying at all, with a malty and slightly floral taste that's just the tiniest bit toasted. Crisp and clean with just the right amount of carbonation. It develops into a dry finish with a discernible bitterness that IPA fans might find a pleasant surprise. This won't knock anyone's socks off, but for an easy drinking lager it definitely pulls its weight.