The Heron Kings' Flight eARC, and a new story just for Newsletter Subscribers
The Heron Kings' Flight eARC, and a new story just for Newsletter Subscribers

The electronic ARC for The Heron Kings' Flight is now available via NetGalley! Interested bloggers, reviewers and general busybodies may request access to it from there. I also have several free invites available to anyone who asks, so if you'd like a free early version now's your chance. If you would like access and are willing to provide a review ahead of the May 17 release date, simply contact me and I'll send a link. Best to do so through Twitter, since all I ever get via the contact form on this site is spam. Like, I've literally received exactly one legit communication from it in the four or so years I've had this site. For some reason, the publisher decided to omit the map from the ARC, though they insist it will be in the final version. So if anyone would find a map helpful, please access it here. All maps are made by me using Wonderdraft, so any mistakes or annoyances in them are my own fault. And of course, the book itself is now available to Pre-Order!
Book 3, The Heron Kings Rampant, is coming along slowly but surely, and the first draft is currently at about 93K words. Pretty close to the end as far as plot, but I'm going to have to do a lot of rewriting on this one as well. You can check out a draft of the first 1200 words here.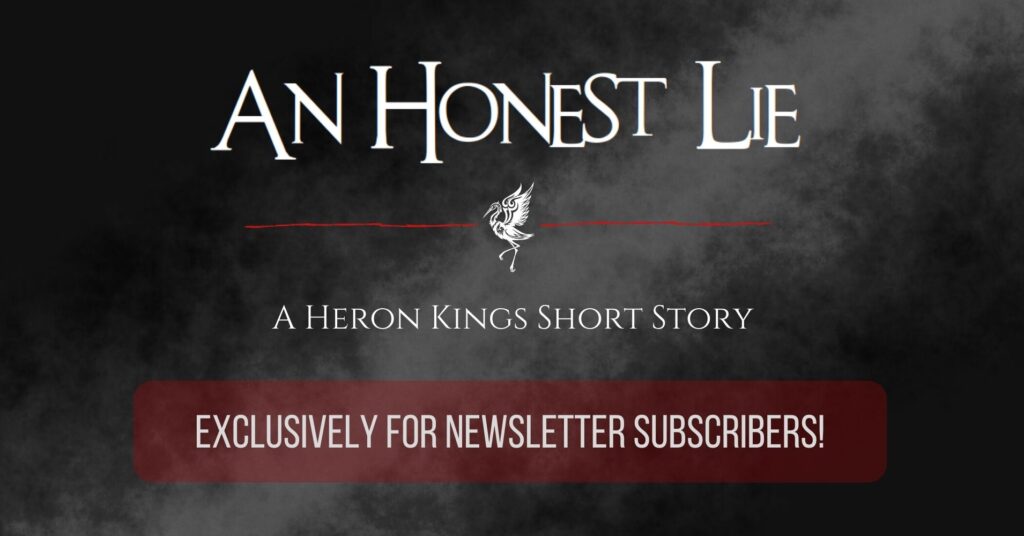 I've also done a little short story tying in to the novel called "An Honest Lie." It's set a few years before The Heron Kings' Flight and introduces some of the main characters from the book. In this story, a desperate fleeing peasant begs for help from the shadowy ranger band. But he's hiding a deadly secret that could cost a whole village their lives. The story is available FREE exclusively to subscribers of my once or twice a year newsletter, so anyone wanting to read it should sign up here, then follow the link in the welcome email. No, I won't share anyone's info with anyone.